Nicky Schaefer | Yoga Instructor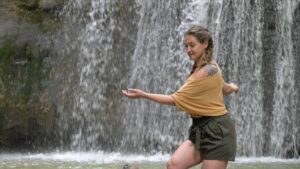 Nicky Schaefer | Yoga Instructor
Nicky loves the spirit of yoga and meditation. On the mat, she has the ability to reach her students at their individual levels and
conditions to improve their flexibility and strength. Her classes include elements of Tai Chi, personal development, breathwork, and yoga philosophy.
Training as a yoga teacher (300h registered Yoga Alliance Teacher) for dynamic ashtanga-vinyasa, therapeutic yoga, yin yoga, and ayurvedic yoga gives her the ability to create a space for releasing, energy movement, and for deep relaxation.
For the optimal combination of natural medicine with the philosophy of Yoga, she integrates her knowledge and experience as a Systemic Live Coach.
Events with Nicky Schaefer | Yoga Instructor